Head of Physical Education – Mr A Carter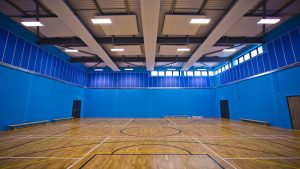 Here at Edward Peake C of E (VC) Middle School, we aim to provide a broad and balanced P.E. curriculum which enables pupils to experience and enjoy a wide range of sporting activities.
Developing pupil's positive attitude towards physical activity is central to the P.E. department's aims, as is encouraging pupils to participate in our extensive programme of extra-curricular sporting opportunities.
We believe that sport is an invaluable tool to help pupils reach their full potential. We not only help pupils develop their physical literacy skills; we also strive to help pupils develop essential life skills through team work and competitive play.
Intent:
The intention of the PE curriculum is to teach our children the positive impacts being active has on their social, metal and physical wellbeing. We aim to deliver high-quality teaching and learning opportunities that inspire all children to succeed in physical activities. To support this, we have an in-depth curriculum plan which also includes activities such as, dance, fitness, swimming and OAA. Physical education promotes an understanding in children of their bodies in action. It involves thinking, selecting and applying skills and promotes positive attitudes towards a healthy lifestyle. Thus we enable children to make informed choices about physical activities throughout their lives.
Our main aims are to:
Develop independent, confident and successful learners

Support passionate, engaged and enthusiastic students.

Have the opportunity to experience a balanced and varied curriculum allowing students to participate in a wide variety of activities covering invasion, racket, striking and fielding, aesthetics and athletics.

Use technical terminology with confidence accurately and precisely, building up an extended specialist vocabulary;

Attend extra-curricular sporting clubs and competitions, have an opportunity to represent their school and community.

Make positive informed choices around their health, well-being and diet.

Have a sound understanding of different sports, their origins, including British and world-wide sporting role models.
Implementation:
Pupils are encouraged to broaden and deepen knowledge of PE whilst showing a positive attitude to learning. The intent is implemented in PE through a series of performance, Knowledge and theory, leadership and physical health/fitness preparation.
Develop independent, confident & successful learners
Encourage passionate, engaged & enthusiastic students.
Broaden pupil choices around their social, physical & mental wellbeing.
In the classroom
Live the feelings, emotions & understanding of our movements & lives.
1. The process of learning new skills, to experiment & to challenge.

2. Studying a variety of sports & activities – experiencing tactics & strategies through a series of condition & competitive games.

1. To discuss, analyse & make their own decisions.

2. Develop understanding that will allow students to lead a healthy active lifestyle both now & in the future.

Out of the classroom
Close links with feeder lower schools & upper schools. Close links to the wider community clubs & promote site facilities for outside clubs to use to engage more students.
Having the opportunity to attend extra-curricular activities & represent the school. Celebrating successes & manage the challenges of defeat.
Access to online resources, local fitness centres. Access to outside clubs which will help build leadership through sport, thus developing self-esteem, confidence & resilience.
Impact:
Pupils achieve academically, are ready for their next steps in education and have high aspirations for their future.
Pupils are prepared for the next stage of their education
Broaden pupils' horizons
Independent, confident & successful learners
Pupils are prepared to move from one year group to the next.

KS3 pupils subject knowledge & health understanding are at a level prepared for upper school specialist teaching.

Pupils have high aspirations for their future.

Pupils are prepared for the wider world.

Pupils understand other people's physical abilities, social differences & mental challenges.

KS2 pupils attain broadly in line with national averages, given their starting points.

Progress across the four years is at least good.